Quality Wood Carving Knives
The wood carving tools made by Jamie Sharp all come carving sharp, meaning ready to carve amazing works of art right out of the box.
Jamie Sharp's curved wood carving knives and adzes are used by many native American west coast carvers like Peter Gong, a native west coast artist of 13 years whose extensive collection of knives is over half from Jamie Sharp alone. Click below and find out why!
What our customers say about Jamie Sharp
I found your blades easier to maintain than the really hard Hall Farrier's crooked hoof knives. Yours are just slightly softer than that but not mushy like Diamond or Mora.
- Brian T
I really like the tools I've gotten from Jamie as they stay sharp for a long time and even if I drop them or bang them it doesn't take that long to fix! And I tell everyone who asks me about knives to see your website
- Cole Speck
My wood carving knives are mostly double sided single bevel straight and hook knives. The hook knife (otherwise known as a crooked knife, bent knife, spoon carving knife or bowl carving knife) excel at carving concave details and the double edge saves time by allowing you to follow the grain without rotating the work around.
I also make double edged straight wood carving knives that work wonderful for flattening, plain carving, whittling, etc with the flush mount on the bottom of the handle at a slight angle allowing you to easily get exceptionally close to the work like no other knife can.
The NW Coast style hook knife is amazingly versatile and a few straight and hook knives can replace dozens of gouges, chisels and other wood carving tools. The hook knife will let you get into spaces no other wood carving tool will and are designed for a slicing motion to sever the wood grain cleaner than most other wood carving tools, producing a finish that is smooth enough to skip sanding.
Many artists such as yourself have already switched to using a northwest coast hook knife after being amazed at how quickly it removes wood while still leaving a wonderful smooth finish.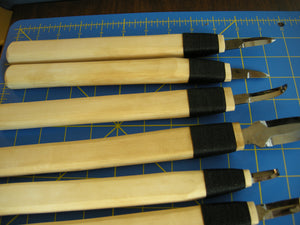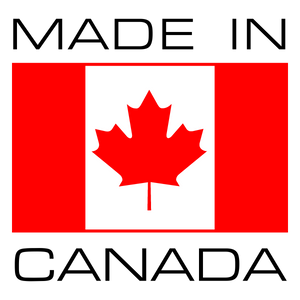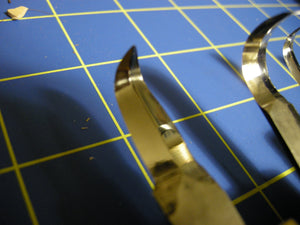 I stand behind my knives
I work tirelessly for you to create the sharpest, most durable and overall best carving knives I can and I stand behind my products with a 1 year warranty.
I want Jamie Sharp to be where you buy your next carving knife by selling the best wood carving knives.
Made in Canada, BC, Mission
All Jamie Sharp wood carving knives and adze are proudly made in Canada, BC and our prices are in Canadian Dollars. When you buy from us all of your money is going to support a Canadian owned and operated small business with the vast majority going directly towards labor.
Free Shipping on orders over $90
Jamie Sharp now offers free shipping within Canada and the USA on all orders of $90 or more! Shipping for single knives starts at $10 within Canada and $16 to the USA.
Featured Wood Carving Knives
The sharpest wood carving knives
All my wood carving tools come to you sharpened to 2000 grit with diamond abrasives.
Hook Knife bevels are generally 15 degree primary bevel with no secondary bevel and Adze are ground to 20 degrees. This makes Jamie Sharp carving knives suitable for soft woods like cedar, basswood, aspen and butternut as is. Harder woods will need a secondary bevel put on the knife.
My wood carving knives are made from high carbon steel with 2% nickel for extra toughness and to provide corrosion resistance. To properly care for your Jamie Sharp straight or hook knife, occasionally wipe it with mineral oil and it will last for generations.
The handles on my wood carving knives are micro textured and ever so slightly faceted for improved grip.
Every aspect of these wood carving knives have been optimized based on feedback from talented artists to produce the best knife for carving wood possible.
I can also teach you how to sharpen a wood carving knife or even create a hook knife from scratch in my blog about Wood carving knifes